Home » Community Psychology
Category Archives:
Community Psychology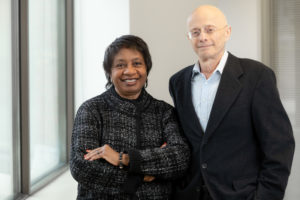 Psychology professors W. LaVome Robinson and Leonard A. Jason have earned a $6.6 million grant from the National Institute of Mental Health to reduce African American youth violence. The award is the largest research grant DePaul University has ever received. 
With collaborators including Chicago Public Schools and Rush University Medical Center, the Success Over Stress Violence Prevention Project strengthens ninth graders' coping skills to deal with stress in order to promote resilience and prevent interpersonal violence and suicide. 
"In communities hard-hit by poverty and drugs, children witness violence and it leads to more violence. Children in these environments do what they do because they're trying to survive," says Robinson, principal investigator for the study. "We are giving children ways to minimize the likelihood they are going to be exposed to, participate in or experience violence." 
Robinson has led Success Over Stress through two efficacy trials, with trained clinicians facilitating the 15-session course in CPS. This yielded strong results: 80 percent of students reported the course helped them meet their stress-reduction goals. NIMH is now funding this 5-year "real world" effectiveness trial, which will train social workers in CPS to deliver the course. This next step is critical for discovering methods to sustain and even expand this intervention model within school systems. 
"We've been talking about this for years and we've finally made it," Robinson says. "It's a very big deal to go from efficacy to effectiveness—very few researchers are able to do that. This wasn't quick and dirty; it was slow and deliberate."
Robinson and Jason, co-investigator on the study, have been collaborating at DePaul for nearly 40 years. 
"We often think about research, teaching and practice as being separate. But this is all three, and that is the best of DePaul," says Jason, director of DePaul's Center for Community Research. 
Evidence-based approach to stopping violence 
Robinson notes there are many programs to address youth violence, but few have been as rigorously evaluated as Success Over Stress. 
"People are asking 'What do we do about gun violence? What do we do about school violence?' There are a lot of people doing good work, but not a lot of empirically validated solutions. We aim to change that," Jason agrees. 
In previous trials, researchers enlisted CPS students to help tailor the scenarios, names of characters and stressors to ensure the program would resonate with their peers. Students shared experiences common among African American youth, Robinson says, from being followed around inside a store and suspected of stealing, or being profiled by police on the street. 
"These children are trying to develop under enormous stress. Any individual with the right amount of stress will seek to cope with that stress," Robinson says. "We help the children recognize stressors in advance, to anticipate the stressor and prepare for the stressor, so they don't get overwhelmed and do impulsive kinds of things."
According to Jason, it's rare for researchers to go into the field and gather information from youth who will receive an intervention. He believes this program has potential for greater impact once it can get into the hands of more social workers in Chicago and beyond. 
"A lot of researchers come in and say, 'We have the solution and know what's best for you.' Instead, we're trying to augment the natural resilience the children already have," he says. 
Education and collaboration, a 'Vincentian approach' 
With this and other grants, the researchers enlist undergraduate and graduate psychology students at DePaul to help deliver and evaluate the program. Working in the Center for Community Research has helped hundreds of psychology alumni gain entrance to graduate programs and launch their careers, Jason says. 
"That's powerful. We are giving our students the credentials, training and experiences that make them marketable," he says.
Alumnus Christopher Whipple contributed to the research during his graduate studies at DePaul and says he was impressed with how youth in the program would encourage each other. 
"Assisting with the implementation and evaluation of the Success Over Stress program helped me to recognize the capacity of youth to strengthen their peers and make lasting change in their communities," says Whipple, who now teaches psychology at Penn State Harrisburg. 
Other collaborators on the project include Rush University Medical Center and Heartland Health Centers, which administer the school-based health centers in CPS. Co-investigators are Kate Keenan, professor of psychiatry and behavioral neuroscience at the University of Chicago; Sally Lemke, director of community health clinics at Rush University Medical Center; and Donald Hedeker, professor of biostatistics at the University of Chicago. 
"Collaboration can be the best way to solve problems, and that is very Vincentian," Jason says. 
Longtime collaboration a 'shining example'
Much has changed at DePaul since Robinson and Jason began working together in 1980. Along with their colleagues, they have helped the community psychology program grow over the years to more than 700 undergraduate and 100 graduate students. The Center for Community Research opened in 2001, and faculty and students in the center have drawn some $39 million in research grants to the university. 
"This grant is a shining example of the cutting-edge, relevant research that occurs in our college," says Dorothy Kozlowski, interim dean of the College of Science and Health. "Professors Robinson and Jason are leading the way, making significant contributions in their field and making a difference in the lives of children and families in underserved areas of Chicago."
DePaul University has always valued a teacher-scholar model, which integrates innovative research into the education of the next generation, says Daniela Stan Raicu, associate provost for research. 
"This award is significant because it can be a catalyst for new opportunities for students to get engaged in research, for faculty to spearhead new interdisciplinary collaborations throughout the university, as well as for the Center for Community Research to draw further support for its important work," Raicu says.​
​​